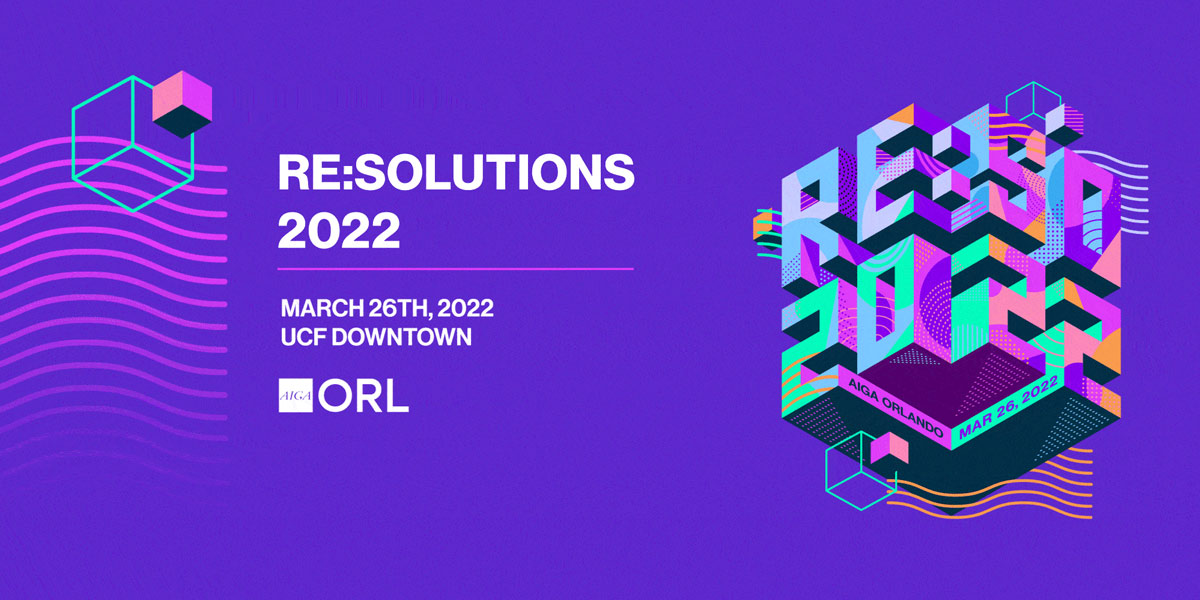 Are you ready to Re:Connect?
It's been two years since we last met for Re:Solutions in person. We understand times are challenging, but we also know that our community is resilient.
Re:Solutions 2022 will be at UCF Downtown. Get ready to come out (safely, of course) for a half-day of workshops and a panel of local creatives.
Join us on March 26 and Re:Ignite your passion for art, design, and all things creative!

Programming
8:30 – 9 a.m. | Registration
9 – 11 a.m. | Hands-on Workshop
11:15 a.m. – 12 p.m. | Break
12:10 p.m. – 1 p.m. | Local Creatives Panel
1:00 p.m. | After party at Ace Café
Location and Parking Information
UCF Downtown
528 West Livingston Street, Orlando, FL, 32801
For parking, enter the UCF Parramore Parking Garage from Parramore Ave. General parking begins on the second floor. Parking is free.
From the garage, walk to the Dr. Phillips Academic Commons building. Enter DPAC at the N. Terry Ave. and W. Livingston St. intersection and follow the AIGA ORL event signage.
For the after party, drive down Robinson St. and turn left onto Garland Ave. Turn right onto E. Livingston St. and Ace Café will be on your right. A large lot is available for parking. Follow the event signage to join the party.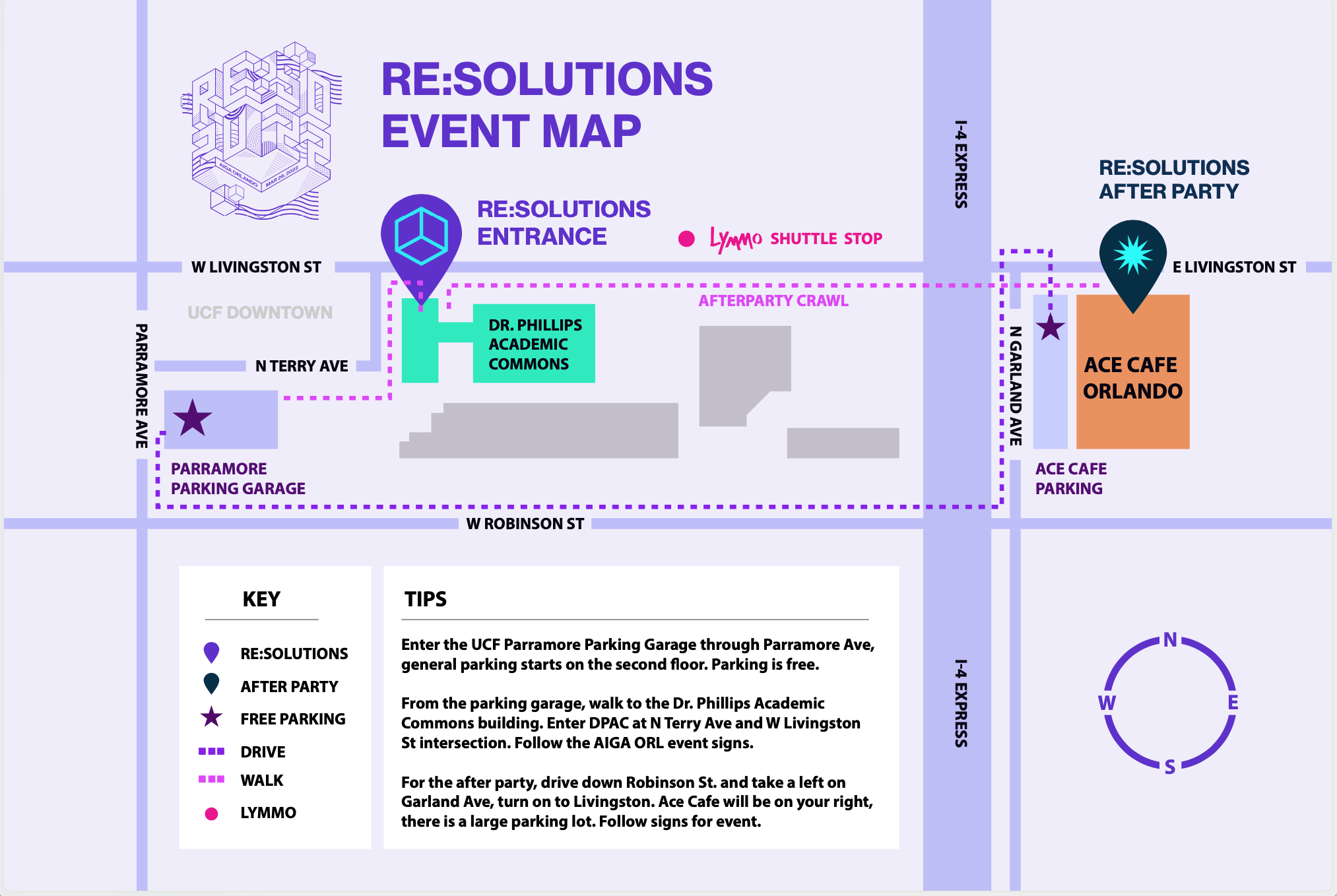 Materials to Bring
Laptop with InDesign, notebook, pencil/pen
After Party Tickets are still on sale!
What is Re:Solutions?
Re:Solutions is an event dedicated to Re:Connecting and Re:Igniting your passion for art, design and all things creative.
Announcing Our Re:Invention Panel
We asked ourselves what's something that we can do to help creatives figure out their next move? In the last few years, most creatives have been faced with the same questions the rest of the workforce are asking "What am I doing, am I fulfilled? Do I want to work for someone else or be my own boss?" These questions are scary and give adulting a whole new meaning.
We're proud to announce our panelists who put the invention into the word reinvention. From beginning career pivots to strategic veteran career moves, they are telling their stories and answering your questions.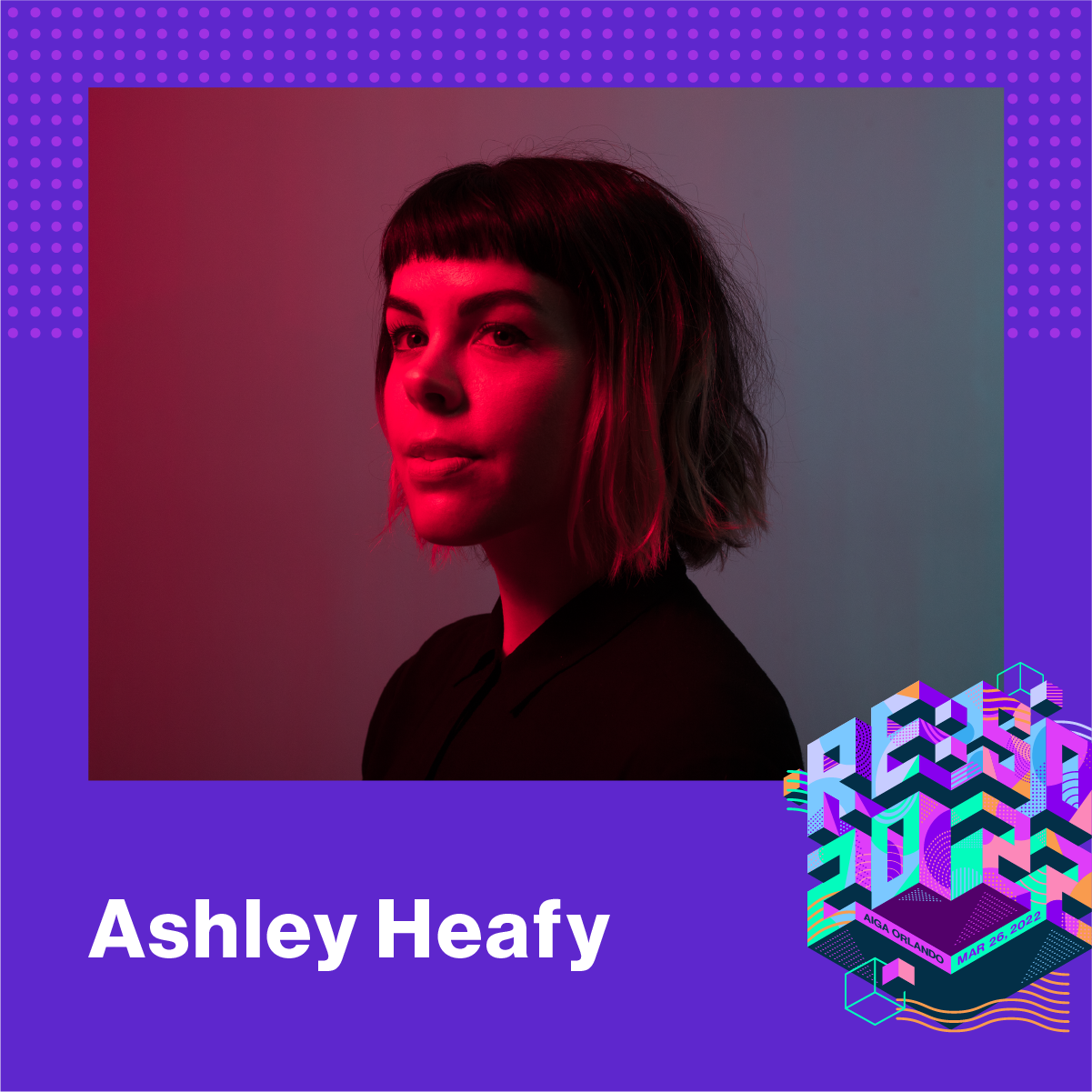 This native Floridian started her career at the School of the Art Institute of Chicago — Ashley Heafy is an independent designer and creative strategist with a strong background in branding, illustration, editorial design, and content creation.✨
IG: @metalandhoney
www.ashleyheafy.com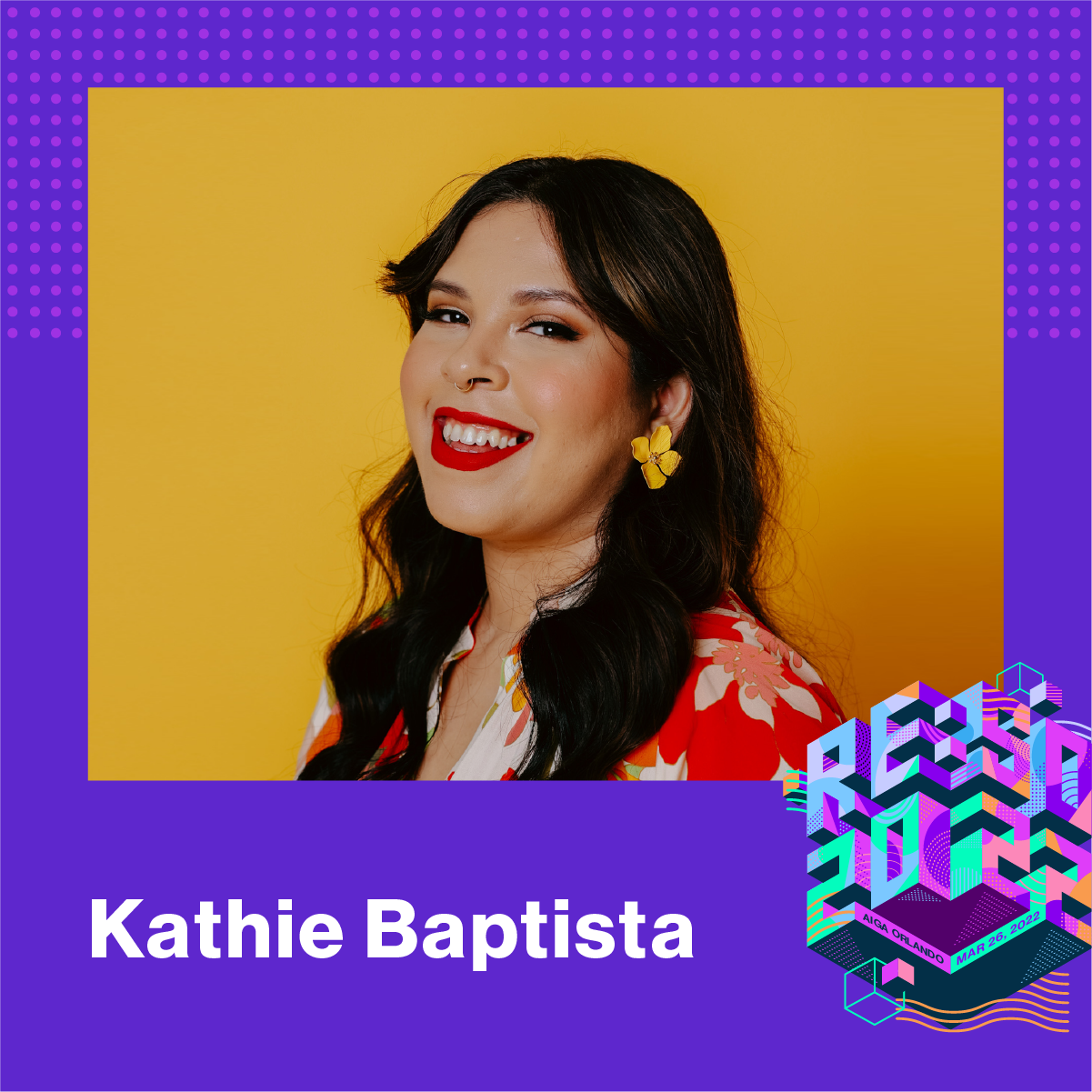 Kathie Baptista is the powerhouse behind Kathie Baptista Creative Studio!✨ This Orlando-based branding and design studio works with creative entrepreneurs, business owners, and agencies to build bold, colorful, intentional brand experiences.
IG: @kathiebaptista
www.kathiebaptista.com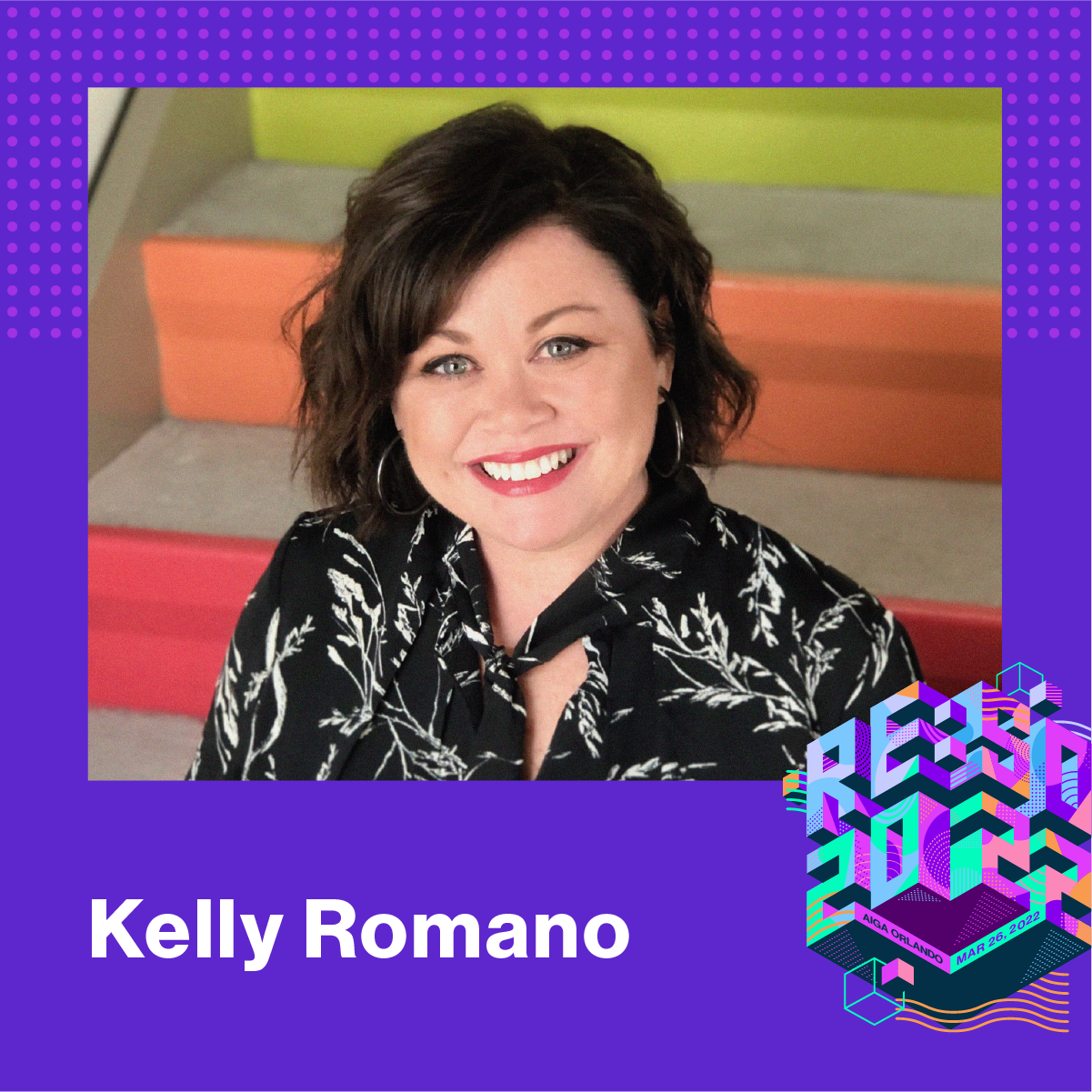 Take a sip of Kelly Romano✨
As the Senior Design Manager for PepsiCo North America, Kelly leads design activation for the Southeast Division across their beverage portfolio brands such as Pepsi, MTN DEW, Gatorade, Rockstar, and more!
IG: @kromano88
linkedin.com-kellyromano
Announcing Our Workshops
As creatives, we consistently seek ways to develop our skills. "How can I solve this problem?" "How do I express myself in new and engaging ways?" Looking at old problems through a new lens can open our minds to a range of possibilities.
We're excited to announce our creative workshops, allowing you to learn from industry leaders and hone your skills of observation, inventiveness, and refinement.
The Nontent
Delve into an exercise designed to challenge the modern designer's approach to layout and to realize the nearly infinite possibilities of the grid.
Audience:
This workshop is designed for all designers of all levels and disciplines.
Materials to bring:
Laptop with InDesign, notebook, pencil/pen
Takeaway:
Through the act of play, the designer will learn to establish and unlock the inner logic of the blank page and grow in the areas of layout/composition, typography, scale, rhythm, and balance.
Improve Your Photography
Whatever you use to shoot, from a DSLR to a phone, you'll learn techniques you can implement today to make your photos better.
Audience:
This workshop is designed for anyone interested in improving their photography, from novice to expert.
Materials to bring:
An open mind and maybe a notebook.
Takeaway:
You'll learn ways to improve your photography, regardless of what camera you are using.
Ticket Pricing
Re:Solutions and Ace Cafe After Party
Member | $118
Non-Member | $163
Student Member | $98
Student Non-Member | $143
Re:Solutions Only*
Member | $78
Non-Member | $113
Student Member | $58
Student Non-Member | $93


*The ticket price includes your choice of workshop, a panelist event, an event t-shirt and swag bag.
Ace Cafe After Party*
AIGA Members Save by Bundling!
Know Before You Go!
Face coverings are optional for this event.
UCF Downtown is a smoke-free campus.
Limited seating due to social distancing.
Refund Policy
A full refund will be given up to 24 hours prior to the event start time. You are reserving your space, so please note that refunds will NOT be given out past the 24-hour grace period.
Eventbrite's fees are non-refundable.