About Re:Solutions
The day is broken down into two parts. In the morning, re:charge your creativity in one of three hands-on workshops. Then in the afternoon, re:engage your mind as you glean from the knowledge and experience of four key speakers.
Re:solve to attend this re:warding event and don't forget to re:gister!
---
Speakers
Workshops (9am - 11am):
General Session (1pm - 5pm):
Speakers subject to change without notice

Chris Robb - Push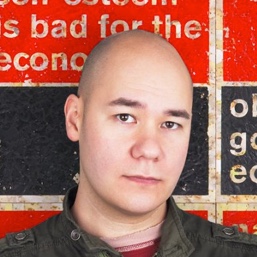 Brian Singer is a San Francisco-based artist and designer. He is currently the Design Manager for the Brand team at Pinterest. Prior to joining Pinterest, Brian managed design teams at Facebook, and ran his own studio working with such companies as Apple, Adidas and Chronicle Books.
Brian is best known for his provocative social projects, such as TWIT Spotting (Texting While In Traffic), which attracted international news coverage (including The Today Show, Time, and Gizmodo) as an unconventional approach to curbing distracted driving. He is also the creator of The 1000 Journals Project, a global art experiment that resulted in a book, a feature length documentary, and was exhibited at both the San Francisco Museum of Modern Art and the Skirball Cultural Center in Los Angeles.
---
Tickets
Morning Workshops Only
Member/Student: $20
Nonmember: $40
Afternoon General Session Only
Member/Student: $40
Nonmember: $60
All Day
Member/Student: $60
Nonmember: $100
---
Location
The entire day will take place in the Church Street Exchange building in downtown Orlando.
Address: 101 S Garland Ave, Orlando, FL 32801
Morning Workshops (9am - 11am)
The Iron Yard - Suite #104 (first floor), Orlando, FL 32801
Afternoon General Session (1pm - 5pm)
Power DMS - Suite #300 (third floor), Orlando, FL 32801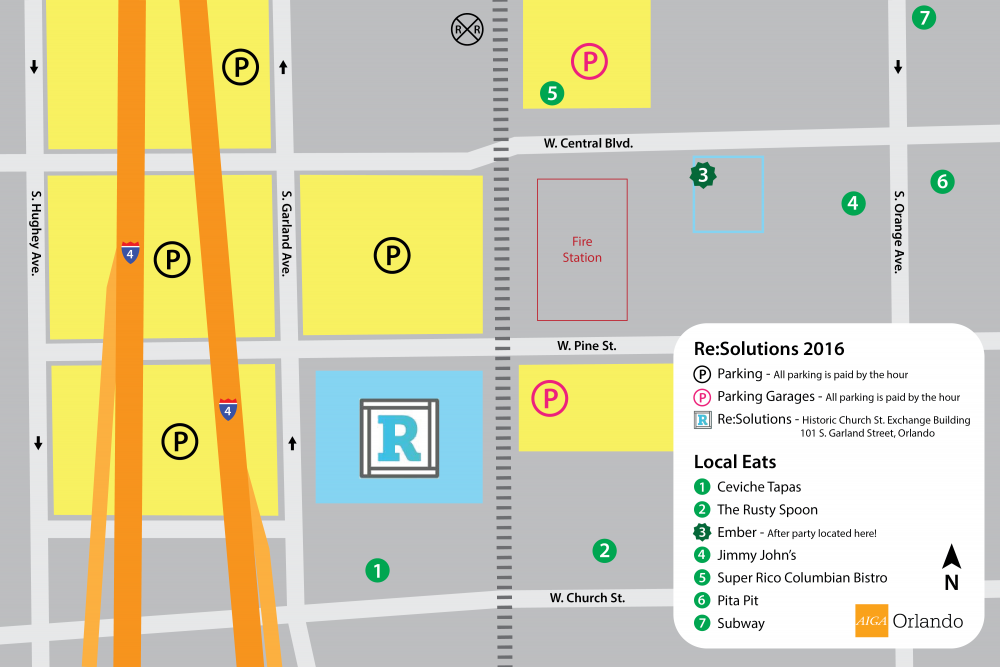 ---
Schedule
8am - 9am: Check-In (The Iron Yard)

9am - 11am: Workshops (The Iron Yard)

11am - 12:30pm: Lunch (on your own)

12pm - 1pm: Check-In (Power DMS)

1pm - 5pm: General Session (Power DMS)

5pm - 7pm: After Party (TBA)
Follow AIGAOrlando on Twitter or Facebook for the latest updates.
---
Event Partners
We couldn't make this day happen without sponsorship of some amazing companies! Our deepest gratitude for their investment in the growth and development of the Orlando creative community.
In-Kind Sponsors
Gold Sponsor

---
Workshops
(Workshops happen simultaneously from 9am - 11am)
User Experience Design - The Basics
Taught by Paul Hershey
In this class you will learn the basics of user experience design. We will break into groups and ideate on a simple webpage concept. We will sketch out ideas, wireframe, and design the page. We will then place the designs in front of a panel of judges where the winning team will receive a free year subscription to Skillshare. You will come out of the workshop with some fun new tricks that you can start applying to your daily design work right away.

---
Essential After Effects: Understanding and learning After Effects
Taught by Matt Dombrowski
This is an introductory to intermediate course for those looking to expand your work flow into the world motion graphics.
We will be discussing After Effects essentials and how to incorporate various industry standard techniques into your into your professional workflow.
What you will learn: The After Effects interface, Photoshop integration, application of animation principles, and the elements of a 3-D logo build.
Materials: Participants must provide their own computers with a Adobe AfterEffects installed.
---
Illustration
Taught by children's book illustrator/author, Ethan Long
Join Ethan Long (www.ethanlong.com) in a brainstorming session as he takes a simple idea from the audience and transforms it into a marketable children's book idea. Concepting, sketching, revising, and some rules of writing will be explored.
Needed: pencil/pen and sketch/notebook and a quick wit.
---
Cancellation / Refund Policy
AIGA Orlando will refund 75% of registration fee for cancellations received by 5:00pm two (2) business days prior to the event. Regrettably, no refunds will be made after this deadline.
Photo/Video Policy
The event will be videotaped and photographed. Content gathered at the event may be used commercially, and by attending the event you will be giving AIGA Orlando your consent to be recorded for this purpose.
Disclaimer
AIGA Orlando reserves the right to cancel or postpone an event, at any time, and for any reason. In the event that a cancellation or postponement occurs the following policies shall apply:
If the event is postponed due to reasons beyond AIGA Orlando's control, the event will be scheduled to a later date. Date, time, and place to be advised. If you are not able to attend on the new date of the event, a complete refund will be issued to attendees who have paid for that event.
When an event is canceled because of AIGA Orlando's own decision and not due to reasons beyond their control, a complete refund will be issued to attendees who have paid for that event. The sole compensation for cancellation or other remedies shall not exceed the event registration fee. No other refunds shall be provided.