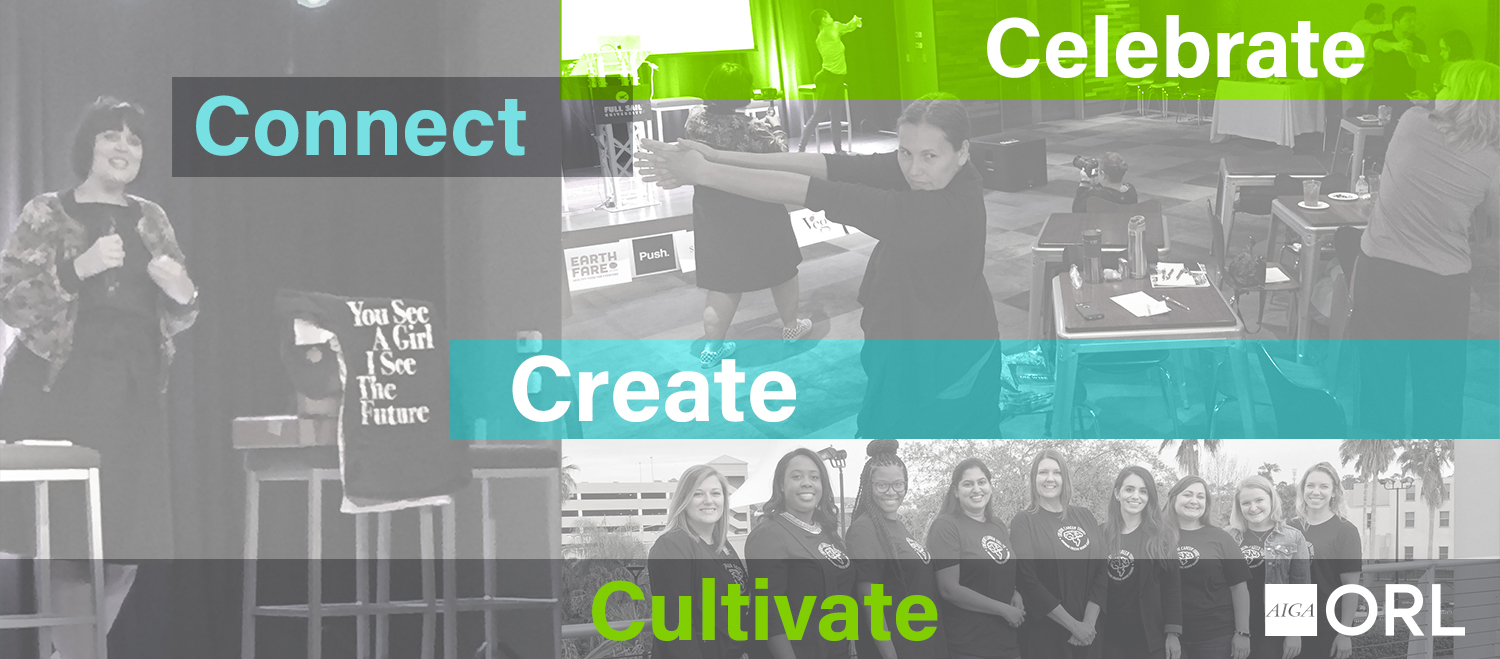 What is the Women Lead Initiative?
Today, women outnumber men in the Design industry yet are still underrepresented in leadership positions (source: AIGA Design Census). We also recognize the lack of representation for LGBTQIA+, Black, Hispanic, Native American, or Native Hawaiian & Other Pacific Islanders, and those living with disabilities in this profession. AIGA Orlando's Women Lead Initiative (WLI) is committed to inclusivity and supporting women in all marginalized populations.
Our Ever-Evolving Mission
Cultivate knowledge and leadership skills
Create awareness of gender/race/age/ability-related inequities
Connect by facilitating relationships within and beyond the design industry
Celebrate the achievements of creative women of all marginalized populations
Why We Formed
The Orlando WLI Team was founded on March 31, 2016, in order to celebrate and foster women's achievements in design. Since then, we've expanded to advocating for all minority groups. We saw a space that needed to be filled: to create a resource for all people who want to make positive changes professionally and in their communities.
How We Formed
Our initial meeting was held at the Imperial at Washburn Imports in College Park, just after AIGA National announced the initiative. It was attended by a large group of women and men interested in creating awareness about inequities and making changes. After a myriad of ideas were discussed, a few were heartily embraced that day.
A few months later, we hosted our first event, which was held at the Rogers building in the theatre upstairs. The speaker was Ashley Heafy, who launched us into our programming with her story of blending her design profession into her rock 'n' roll, frequent-traveler lifestyle. We continued to host other wonderful speakers, panelists, and interactive events from that point on.
The team came from that first meeting but was pared down to a one-person representative the first year. Later adding two coordinators to lend their strengths to the initiative, we grew from having two events in our first year to having multiple, annual events—some highly anticipated—expanding our offerings to more speakers, a workshop series, a community acknowledgment award, outreach for kids, and an annual mini-conference and wellness event, called Wellness by Design.
What We Do
The Orlando WLI Team works to develop programs, events, and resources for an inclusive audience—women and men, emerging designers and seasoned professionals, members and nonmembers, and even people outside of the Design profession.
Ripple: is a workshop series highlighting the knowledge, talent, and skill of creative women and femme folx in Orlando.
Speakers: Ashley Heafy, Ashleigh Axios, Sherra Bell, Renata Glebocki and Dave Plotkin, Eric Rollings (FaceBook Live Stream)
Panels: Women's Panel on Different leadership styles based on Extroversion and Introversion
Mock Interviews: Two-part event including interview/portfolio best practices presentations followed up with actual mock interviews
Creative Career Tours: Outreach for underrepresented girls
Wellness by Design: A full day of speakers and interaction based on our pillars of well-being – Physical, Mental, Spiritual, Financial, Social, Vocational, and Environmental wellbeing
High Five Awards: celebrating individuals in our community who consistently elevate women and other marginalized people
How to Participate
Would you like to be a part of the change? Whether you want to be a speaker, lead a workshop, vote for your favorite equity advocate, attend an event, volunteer at an event, have an idea for something you'd like to see, or if you just have a question, you can connect with us here: womenlead@orlando.aiga.org
Who We Are
The 2020-21 WLI team is:
Anna McCambridge-Thomas, Women Lead Initiative Director
Kath Reyes, Women Lead Initiative Coordinator
Ashley Taylor, Women Lead Initiative Coordinator
Reina Castellanos, Ripple Workshop Series Lead
Sarah Siddiqui, Creative Careers Tours Lead

We are built on volunteers who care.