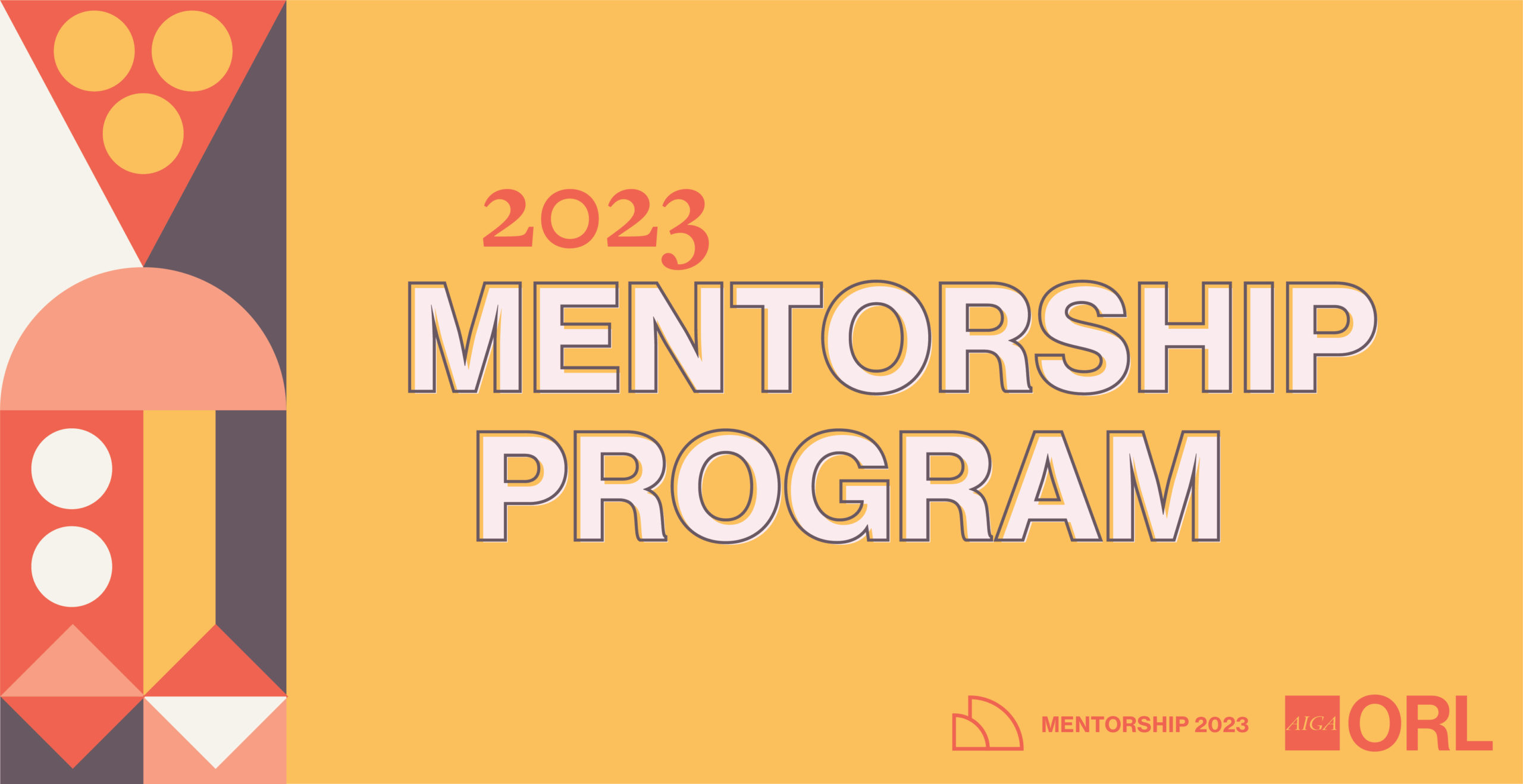 The AIGA Orlando Mentorship Program pairs the most passionate design students with leading industry professionals to help refine their skills and prepare them for a career in a creative field. As a mentee in the program, you will be exposed to informative workshops and collaborative work sessions to enhance your personal brand and networking skills. Throughout the program, you will develop connections and relationships which are invaluable and can extend well beyond the program. As a mentor, you'll impart your skills and years of experience to make a lasting impact on the next generation of creative professionals.Entrant information:
The AIGA Orlando Mentorship Program has been known to garner many talented and successful design mentors from some of the top studios, agencies, and companies in the area. Competition to become a mentee is fierce due to the limited number of slots available. Our mentorship program is a unique opportunity that has been established to enrich a culture of professionalism and endless creativity in the city of Orlando. Mentors and mentees will be thoughtfully paired by our chapter board members following the application submission period.
The program kicks off on December 3rd with orientation. Starting from day one, successful entrants will begin working diligently with their mentors and continue to do so for the next 5 months. Each mentee is challenged with creating a project to be displayed in the annual SPOT Award Showcase in April.
The SPOT Award Showcase is a widely attended and competitive exhibition highlighting the collective effort of the mentorship program. Many of Orlando's creative directors utilize the events to scope out the area's up-and-coming design talent. Plus, a panel of distinguished local creatives will determine a winner of a "Judges' Award" representing Best in Show, while a "People's Choice Award" will be determined by the popular vote of event attendees.
The 2023 Mentorship Program will return to in-person programming. Our kick-off event will be held via zoom while tours, meetings, and check-ins will be held in person. The Spot Showcase will be in person with submissions showcased also on Behance.
The 2023 Mentorship Program is underway, save the date for the 2023 Mentorship SPOT! Showcase on April 29th, to see what our mentees create.
To see last year's submissions to the virtual Spot Showcase 2022,
visit https://www.behance.net/SPOTShowcase2022
---
Entrant information:
Applicants must either be currently enrolled in a design program or show significant design experience, if enrolled, the applicant must be a Junior or Senior with at least 30 credits toward their degree. Special Applicants are also eligible if they have recently graduated no earlier than May 2021. Applicants accepted into the program will be paired with professionals based on interest and qualifications. Participants do NOT have to be AIGA members to apply. Applicants must have a portfolio of at least 5 pieces of work to submit.
If you are interested in being a mentor or a mentee, please click the Eventbrite registration link. You will be redirected to Eventbrite where you can select the appropriate application form.
There is a $15 non-refundable mentee application fee, and students must follow the application instructions for submitting a current portfolio.
SUBMIT YOUR APPLICATION BY 11:59 PM NOVEMBER 19, 2022.
APPLICATIONS OPEN OCTOBER 24
Questions?
Contact mentorship@orlando.aiga.org.
SPOT Showcase Awards Ceremony 2022 Live Stream
2022 SPOT Showcase recipients
People's Choice (SPOT) Award: Jake Fennimore – The Sound Project – Mentor: Steve Carsella
• Native Screen Print Co "We SPOTted your work, now we want to print it" Award: Natalia Zapata – Tangled Together – Mentor: LaTanya Beauregard AND Katie Drescher – Summer Hill – Mentor: Andrea Jones
• Judge's Best Presentation Award: Matias Maldonado – Unifi app design – Mentor: Avery Smith
• The Counter the Monotony Award Presented by Counter Brand & Type: Maddy Macfarlane – Delivery! The Game – Mentor: Ricardo De Azua
• Lure Design Fresh Eye Award: Ariel Kulekofsky – Pretty Handsome // Gender Fluid Apparel – Mentor: Peter Soutullo
• Judge's Best Presentation Award: Matias Maldonado – Unifi app design – Mentor: Avery Smith
• Judge's Best in Show Award: Juliette Remirez – Like New Hospitality – Mentor: Dylon York
Check out their full projects on AIGA Orlando's Behance: https://www.behance.net/SPOTShowcase2022
The SPOT Showcase is the culmination of the AIGA Orlando Mentorship Program, where students are paired with mentors and work on a project over the course of several months. This year, special guest Kristine Karth joined us for an insightful conversation and the award recipients were announced.
Thank you for tuning in! Special thanks to our mentees, mentors, judges, sponsors, board members and the Orlando Community!